Spoolers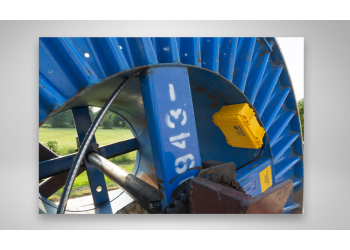 The ACE Spooler allows continuous, safe monitoring of any ACE ESP downhole sensor, downhole motor and the connecting cable in real time during installation. The unit magnetically mounts inside the rotating cable spool and is electrically connected to the end of the ESP cable inside the spool. The Spooler provides electrically limited power to the downhole sensor via the ESP cable, decodes the sensors transducer readings and monitors the ESP power cable condition. The Spooler establishes a local WiFi network, so sensor readings may be monitored continuously by any personnel within range using standard cell phones, laptop computers, hand held tablets etc. Multiple personnel may all monitor the system at the same time, anywhere within range of the WiFi signal.
Spoolers act as a real time warning system. Any fault conditions from the cable, sensor or interconnect during installation will be apparent within seconds to everyone monitoring the system plus an audible alarm at the Spooler. Rather than having to stop the rig periodically, attach a test unit to the end of the cable, then wait to verify downhole readings any errors are now reported instantly. The unit is battery powered and will typically operate for 15 hours on the field replaceable, rechargeable batteries; battery state of charge is continually displayed. A spare set of batteries and charger is provided, so the device may be up and running again within a couple of minutes. Savings in rig time typically pay for the unit after being used twice.
Does not require any internet, wireless or cell phone service to
No license required to operate anywhere on the
Error indication within seconds helps pinpoint a downhole error
Unlimited internal logging with time stamp assigned to each downhole reading
Works seamlessly with all world's GPS systems (Navistar GPS USA | Glonas Russia | BeiDou China | Galileo Europe ) so you will have your rig GPS coordinates detected anywhere on Earth and saved into your log file.
Spooler kit in stock with same day shipping p/n 2000170-001
---